Help keep Richmond safe . . .
Join the Fire Department!
To have a member reach out to you, Click Here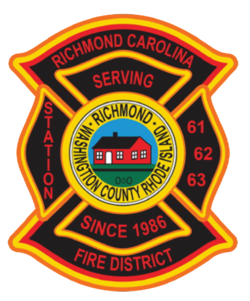 Carolina Volunteer Fire Association
Richmond-Carolina Fire District, Richmond, Rhode Island
Meet a neighbor. Make a difference. Save a life.

This page tells you what is involved with joining the volunteers who make up the Carolina Volunteer Fire Association. No simple Web page can fully describe all the details and benefits, but we hope you will read through this overview, and contact us to learn more.
The feeling you get volunteering as a firefighter is hard to describe.
"Being a firefighter is probably the best contribution I've ever made to others."
"I like the people, the challenge and how quickly I met people as a newcomer to Richmond."
"I never knew it would feel this good to work this hard. It means more than I can say."
And the gratitude of your neighbors may also be beyond words.
"I can't tell you the great relief we felt when you came up the driveway."
"We really felt like our neighbors were coming to our rescue."
"... and thank you once again for checking back to see how we were doing. It made us all feel safer!"
Message from the Chief: Learn how you can make a difference in your life and in the lives of friends and strangers. To be a firefighter, you need a simple desire to play a vital role in your town. We rely strictly on volunteers like you. Our men and women firefighters need to be capable of performing strenuous work for up to three to four hours at a stretch. Meetings and training are involved. Like you, we are busy people, so in meetings and training, we try to spend everyone's time wisely. We look forward to hearing from you.
Scott Barber, District Chief
(401) 213-6595
Safety first!
Proper training and careful leadership make for effective firefighting. It is important for all volunteers to get all the free training necessary to work safely under pressure. Our leadership team is clearly focused on the safety of all members. It is the best way to keep everyone's family secure. we will also provide you with full on-the-job insurance coverage.
You can do it all
Once properly trained, you will be able to work right alongside our most experienced members. It does take time, but it is an investment that saves lives and property. We have tasks at several different levels. You do not have to go charging into burning buildings. There are many ways to help. We also have a junior's program for those who are at least 14 years of age.
The rewards
It is hard to put into words. We can only say that when you help a neighbor or stranger in crisis, they are grateful forever.
What to expect
We get about 300 alarms a year. Most are for medical assistance. You can choose to become an emergency medical technician (EMT) or simply work on your firefighting and rescue skills. Most members respond to 10 percent to 20 percent of the calls we get. If you work outside town, you keep working when we get calls. You are not expected to leave your job. Calls also include fires, auto accidents, and mutual aid support to Hope Valley, Charlestown, Exeter, and South Kingstown. It is also important that you attend monthly membership meetings and the more frequent trainings. We have modest incentive pay for calls.
We are your neighbors
Typical Carolina firefighters
Steve, 40, laborer
Bill, 42, mechanic
Mike, 33, professional firefighter
Dave, 36, construction
Jen, 25, health care
Keith, 44, carpenter
Dave, 41, medical imaging
Rich, 55, heating oil delivery
Amy, 23, student

We're an easy group to join.
This volunteer fire department is made up of local people who believe in a team approach to fighting fires. We are not a club. Our department welcomes anyone who wishes to learn more or join us in our work. You will find we value the skills you bring to this team. You CAN make a difference.
Answer the call for help
We need help. We are running below our optimal staffing. Will you consider joining your neighbors? Fighting fires can be dangerous. But as we all know, fire must be fought.
Your next step
By now, we hope you have a pretty good sense of what it means to keep Richmond safe. But there is much more than we can list on this page. Bring your questions to our next meeting on the first Tuesday of each month at 7:00 p.m. at the H.L. Arnold Fire & Safety Complex, 208 Richmond Townhouse Rd., (Route 112), Richmond, Rhode Island.
You can also Click Here to have one of our membership committee contact you.
The Richmond-Carolina Fire District and Carolina Volunteer Fire Association provide for equal membership opportunity without regard to race, color, religion, sex, national origin, age, disability, gender identity, political beliefs, marital or familial status, sexual orientation, or enrollment in any public assistance program.